back

Nikon Optiphot Microscope
The Optiphot was introduced around 1978, inheriting some features from 1976 Metaphot and Biophot,
with the same CF optics but more options and some cost reductions, including lower illumination power.
Optiphot Pol manual
Nikon Labophot Microscope #120432 *Power Tested*
eBay item number: 294867880389
Condition: Used
Manufacturer: Nikon
Model: 120432

Includes: 1 Labophot microscope

Condition: Nikon Labophot Microscope #120432 *Power Tested*.
Clean, good condition. Used.
This item was previously owned and was working with other working equipment.
See photos for exact item, condition, and details on model available.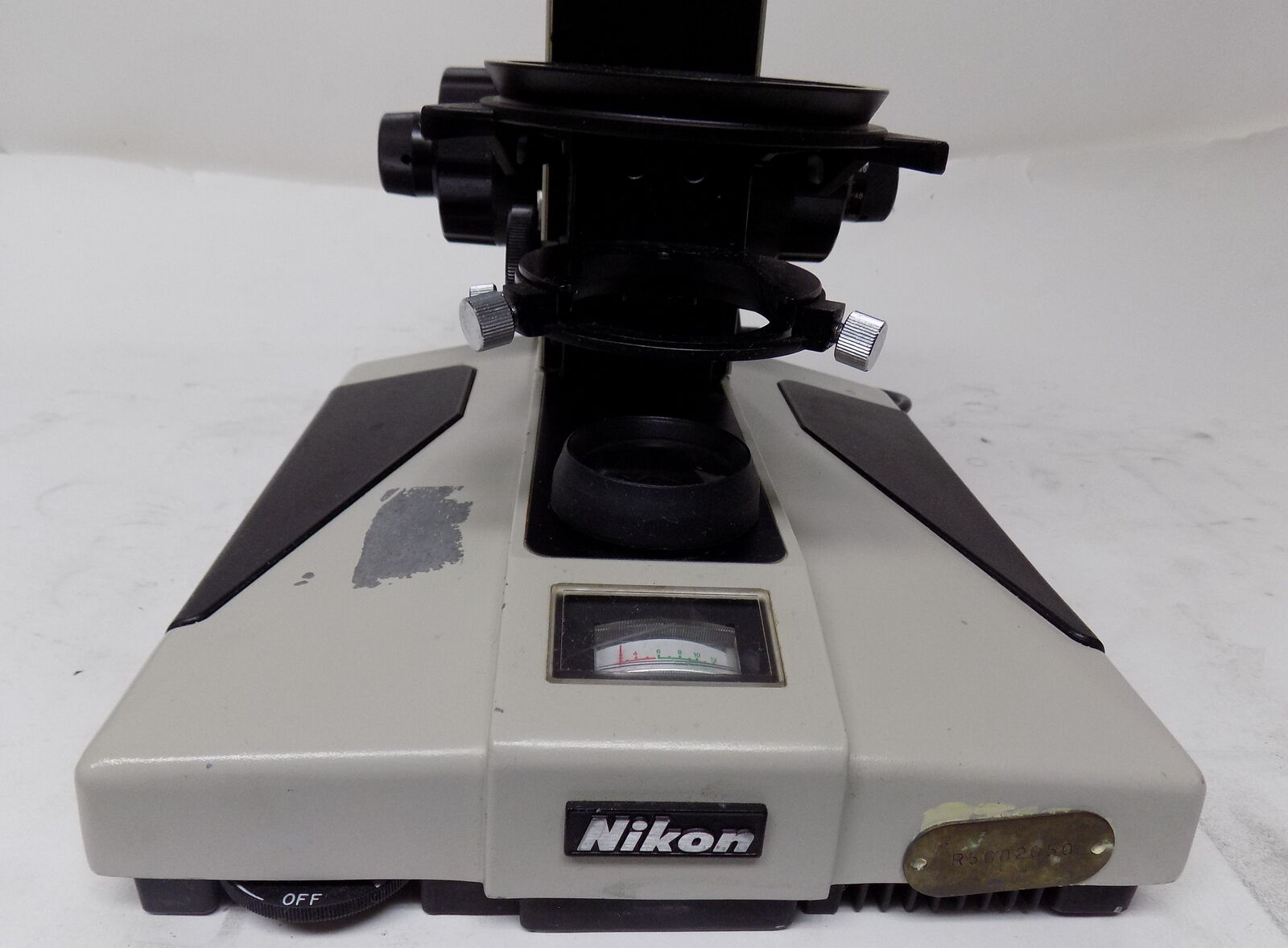 Received 9 June 2022
Despite being advertised as a Labophot, it is an Optiphot, as embossed on its "Nikon Optiphot" arm plate.
Plastic base pads are fine. Those tend to be problematic on Optiphot 2...

The lamphouse was thankfully intact, having been removed as requested.
Bulb lights;&nbsp filament shows clearly in the field lens;&nbsp diffuser is missing...
A cheap substitute was ordered from Amazon.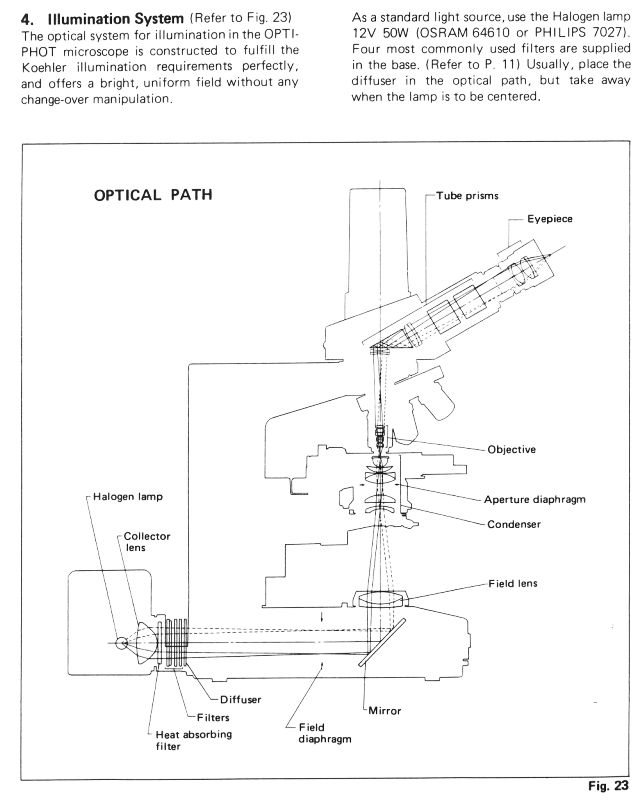 Condenser carrier and rack are intact and working, but neither coarse nor fine stage focus knobs work.

Bizarrly, power connecton for 12V bulb uses 110VAC plug and receptacle: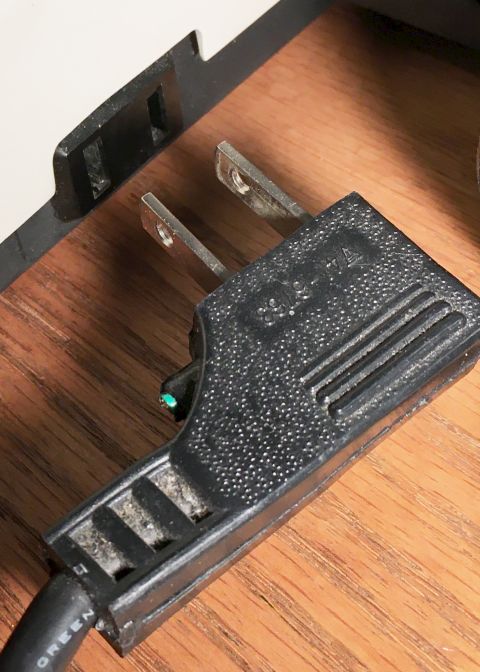 ...although they match those on page 10 of the Optiphot instruction manual.

Condenser carrier and rack are seemingly identical to those on the diaphot Optiphot 66;
unlike the 66, its stop actually prevents running off its pinion.
That carrier design seems odd;&nbsp an upper U is rigid to the rack, with a screw that anchors condensers to it,
but a lower spring-loaded ring with two adjusting screws that center condensers.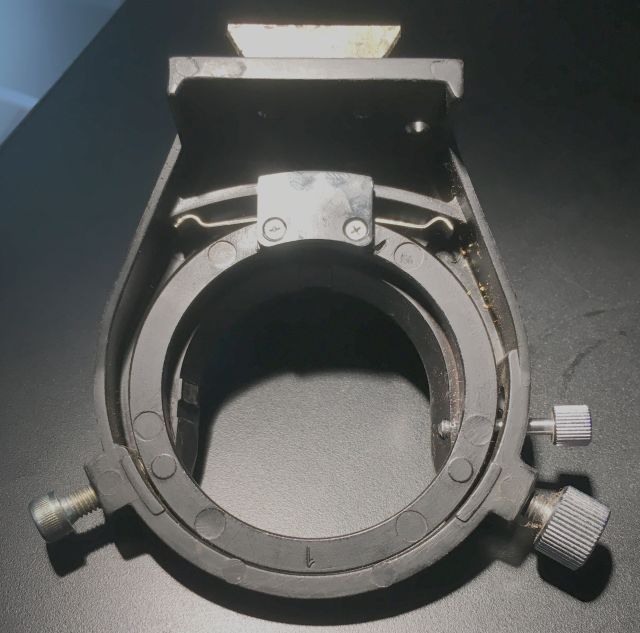 Condenser and substage assemblies mount on a dovetail that
is removable from the (broken) stage focus rack.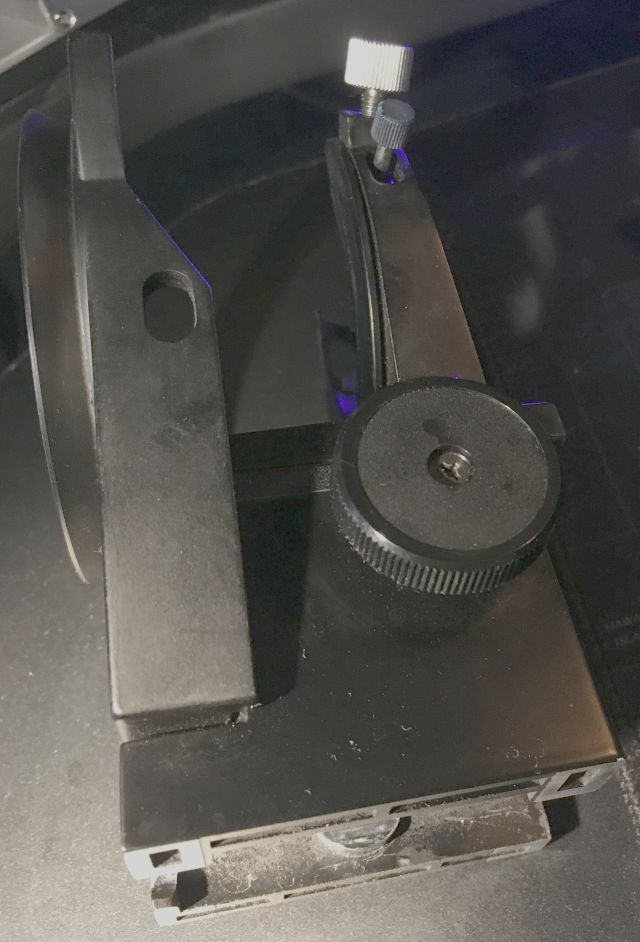 Focus
Optiphot-1 fine focus differs from -66

-66 has a single 26:6 planetary gear driven from its (fragile plastic) fine focus gear (13:3),
-1 15:6 plastic planetary is driven from fine focus, driving via a plastic idler its 20:6 (25:3).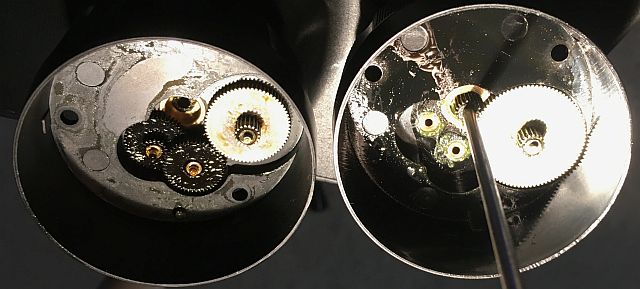 -1 fine focus on the left;&nbsp -66 fine focus is to the right, with its fine focus shaft

Those last (metal) gears' 6 cog sticks thru a large brass spacer/bushing plate
to drive a first coarse focus coaxial sun gear,
which smaller cog drives the coarse focus planetary gear,
which small cog drive the coaxial focus pinion sun gear.

The -1 focus evidently had been already fiddled,
because its large brass spacer was only loosely threaded onto its coarse focus tube,
and its first coarse focus sun gear was missing.

The -66 coarse focus tube has a retaining nut on the end without gears;&nbsp don't yet know about the -1;
its large brass spacer/bushing plate is still tightly threaded on its coarse focus tube.

Both focus blocks are the same width, so presumably matching fine focus shaft lengths.

Condenser
Bought a Zeiss 0.9 flip-top condenser; got some advice.
Bought a Nikon swing-out condenser;&nbsp not enough working distance for 3mm epi plate over the stage.
ELWD condenser arguably has too much working distance.

Nosepiece turret
abednego1995 explained difference from infinite semiconductor inspection Optiphot 100 series turret;
eBay item: 173262463509
Condition: Used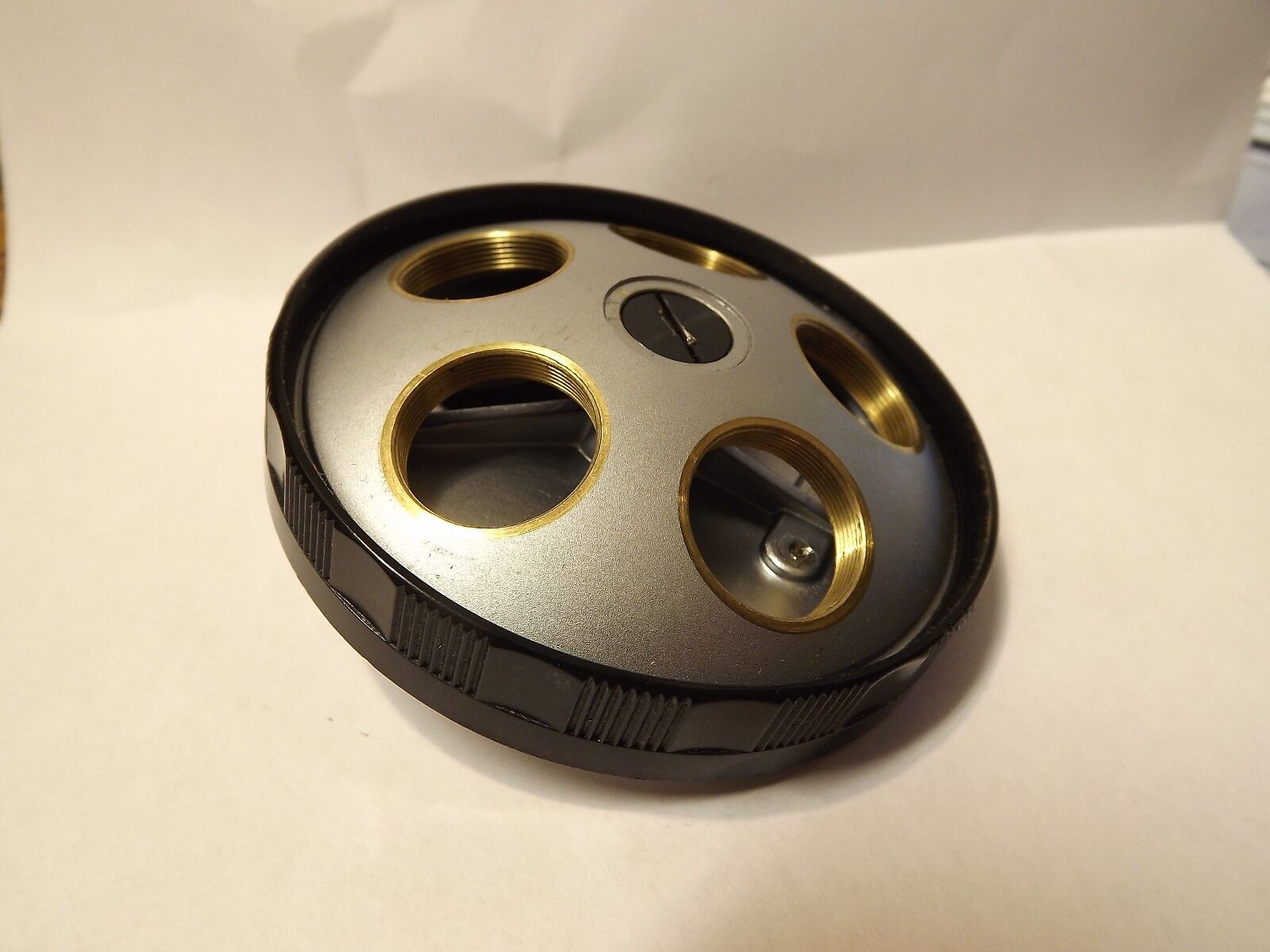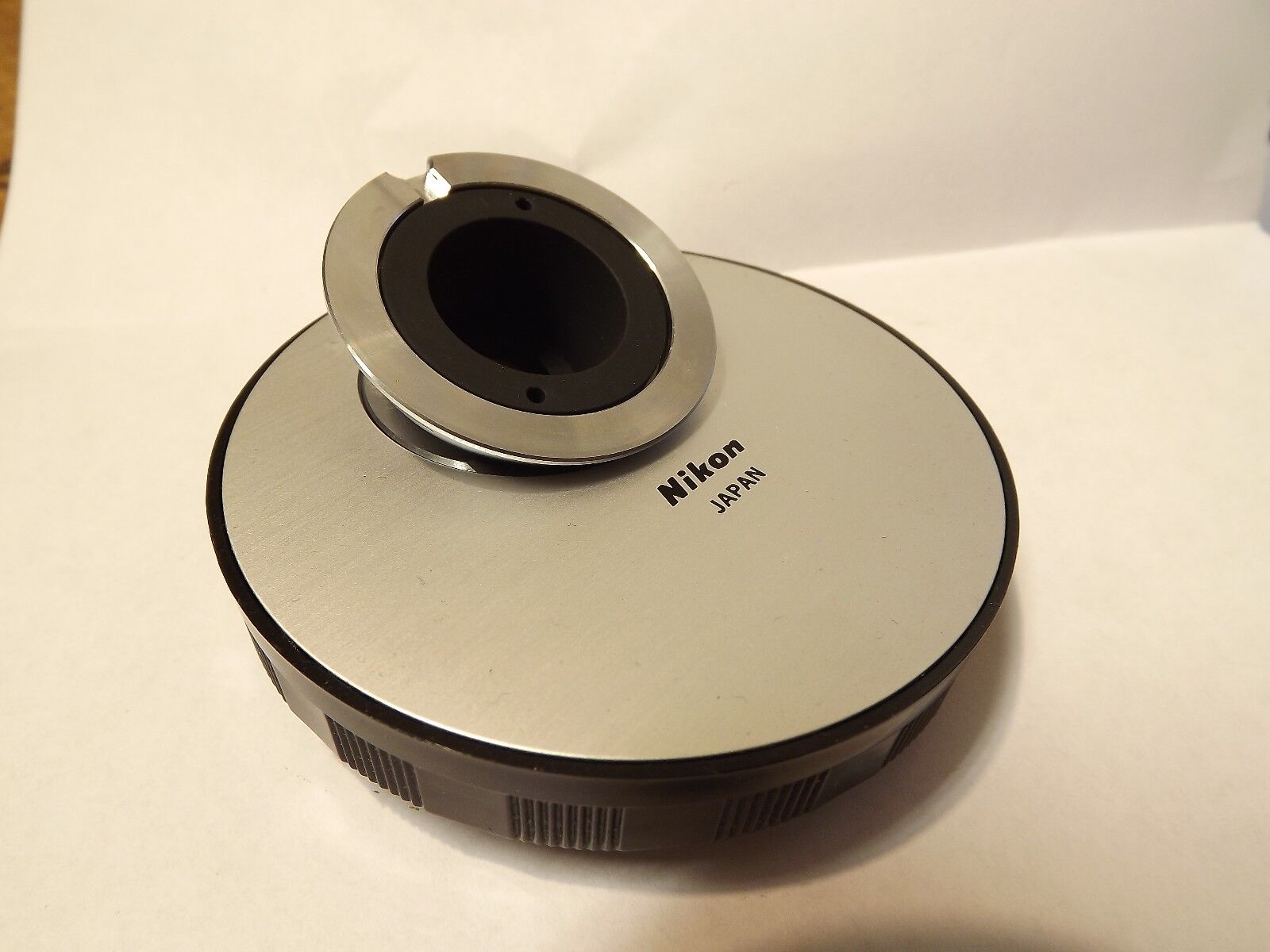 A Nikon 5 space microscope turret that fits Microphot, Labophot and Optiphot for sure.
It may fit other models.
The turret is in excellent condition.