back

Oculars
This exercise captured differences in views of Nikon's M Plan 40X 0.65 n.a. 210/0 by 3 oculars,
namely Nikon's CFWN 10X-20, a generic Chinese WF10X 18mm high point
(which had been acquired to use with eyeglasses on an AO 120),
and another Chinese WF10X/22 acquired to use with eyeglasses instead of the CFWN 10X-20 on an Optiphot-66.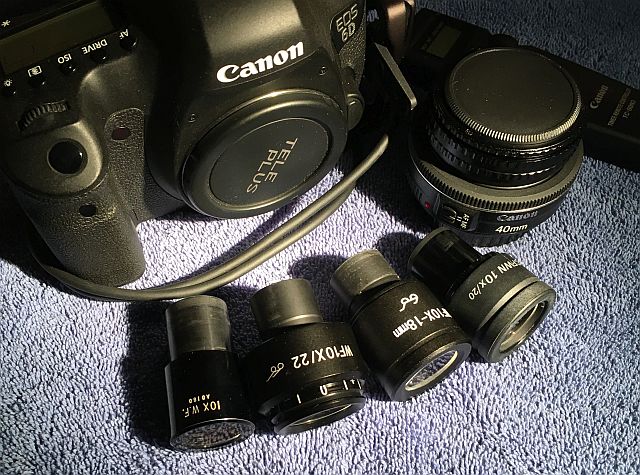 The Optiphot being used still suffers from slowly sinking stage, requiring frequent refocusing.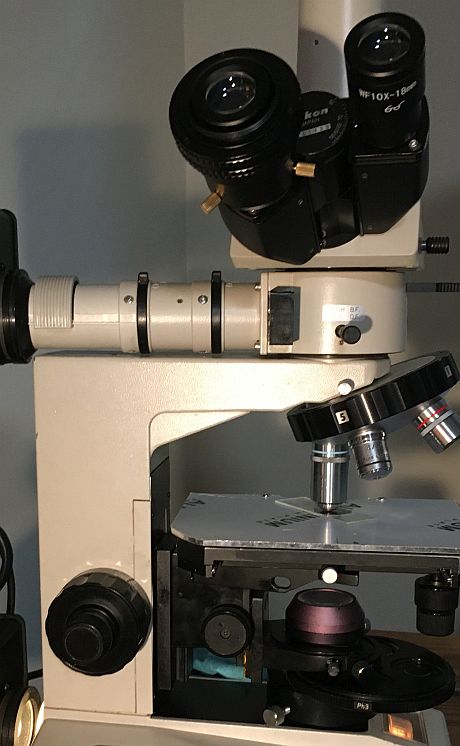 That stage was accidently bumped during ocular changes;
orientation of the calibration slide differs slightly among images.
Here is the WF10X 18mm peeking from a repurposed 1.25-inch telescope clamp
(which fits Nikon's trinocular T, but not F, head).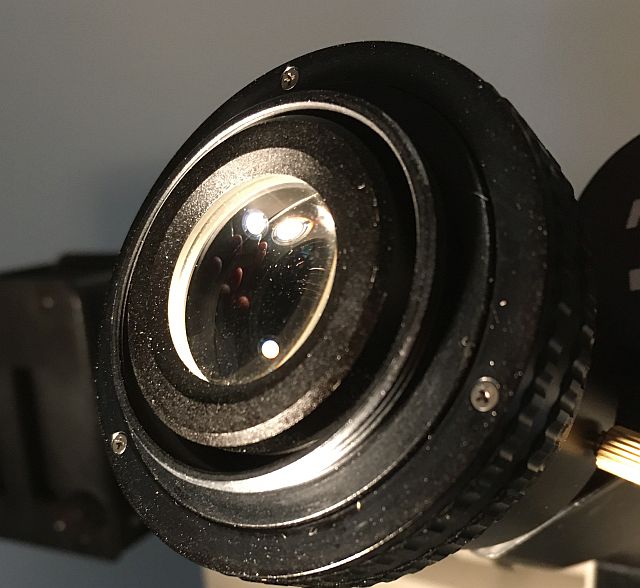 and an M42 focusing helicoid, which was adjusted to approximately equalize ocular-to-40mm lens spacing.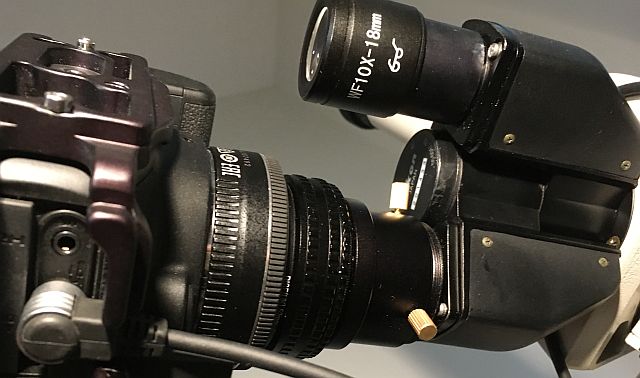 To my eye, the WF10X-18mm and WF10X/22 views are quite similar, except for field-of-view.
Afocal images captured using Canon 40mm pancake lens with a 6D instead of APC body
capture nearly full field from M Plan 40x 0.65 210/0
with fixed manual camera settings (f/2.4, 1/20 sec, ISO 4000)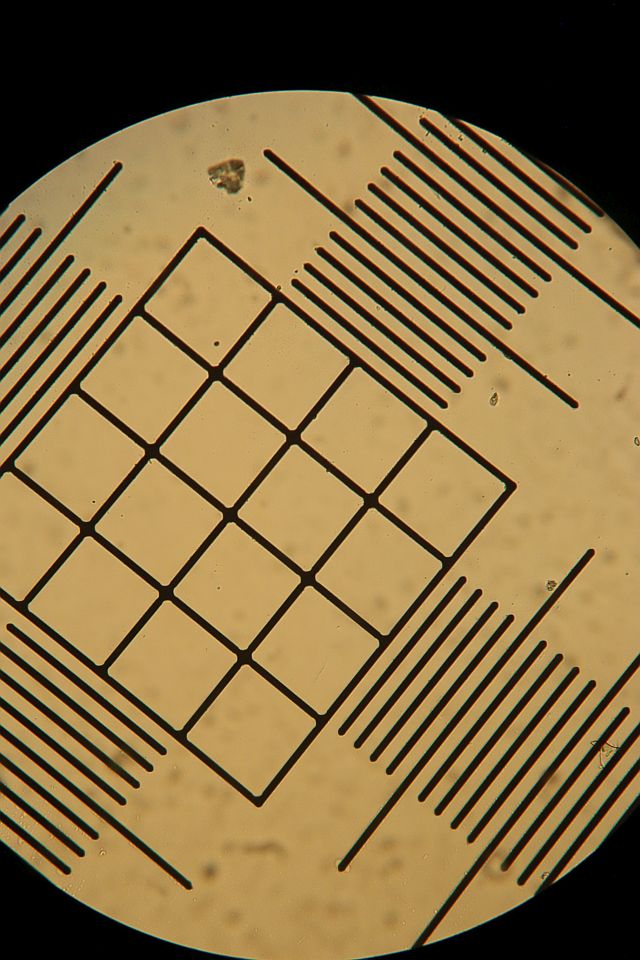 The WF10X-22 is too large for the clamp, but the helicoid helped register the 40mm lens over it.
I had to hand-hold the camera for WF10X/22 and forgot to rotate the 6D from landscape orientation.
The 6D evidently found this WF10X-22 significantly brighter than the WF10X-18mm: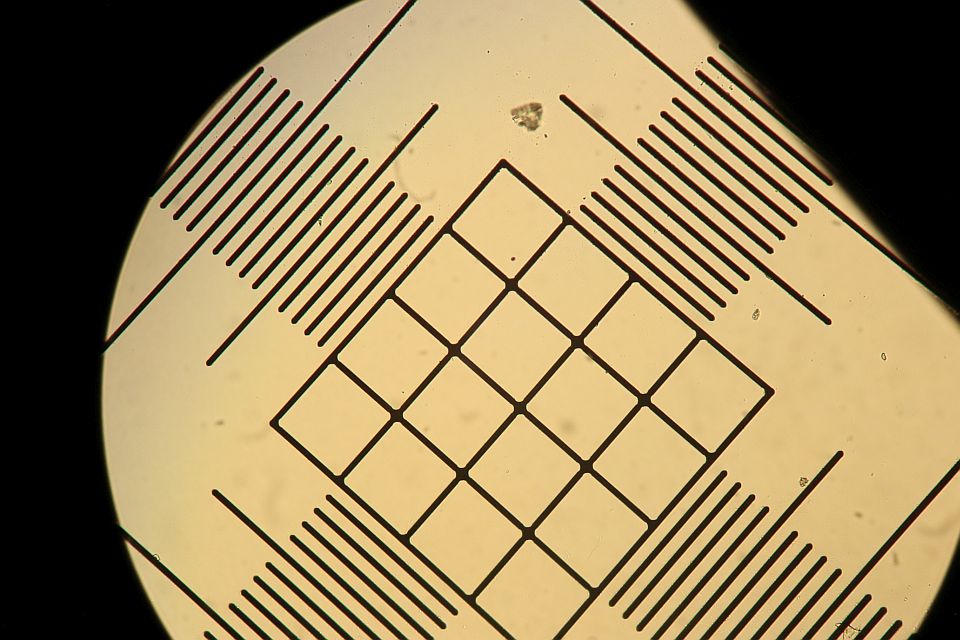 Visually, the CFWN10X-20 has lower contrast,
with calibration markings never appearing black when best focused.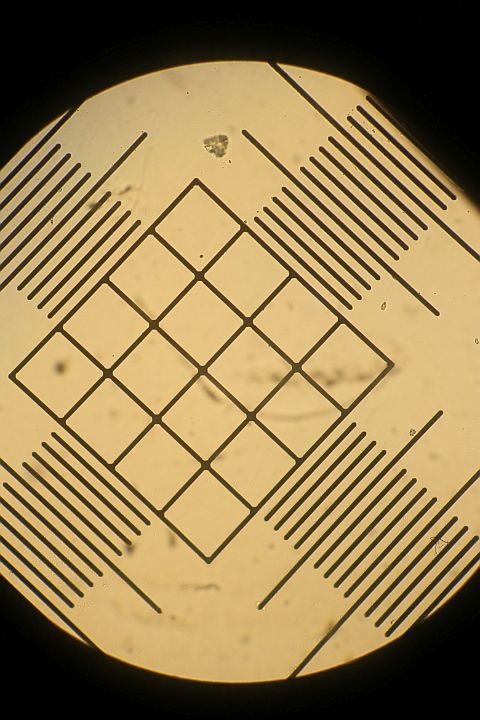 Something obscures upper right edge for FoV > 18 in trinocular T left eye tube;
that happens neither in the right T eye tube nor either trinocular F eye tube,
which gets used for most imaging because of its empty photo tube.

apochronaut compared some higher magnification eyepieces:
https://www.microbehunter.com/microscopy-forum/viewtopic.php?t=7642

Eyepiece anatomy (Olympus)
https://www.olympus-lifescience.com/en/microscope-resource/primer/anatomy/oculars/

Could have paid $3 less @ AliExpress, but without rubber eye guards:
https://www.aliexpress.com/item/2251832197550173.html

A pair of WF10X-18mm eyepieces were acquired in 2020 for an AO 120.
AO 180 oculars are OK, but lack relief for eyeglasses, which are not optional.
I was pleasantly surprised that corrections, if any, match so far as I can tell.
Nikon CFWN 10X/20 eyepieces are problematic for me, not only
lacking eyeglass relief, but also somehow provoking floaters to substantially obscure viewing.
Thankfully, WF10X/22 oculars, purchase June 2021 based on
https://www.photomacrography.net/forum/viewtopic.php?f=25&t=40224
seemingly match CFWN (lack of) corrections, work with eyeglasses mashed to them and mitigate floaters.
Curiously, CFWN 10X/20 oculars seem better in the AO 120, aggravating floaters less than in the Optiphot..??
The AO 120 is IMO a better diascopic microscope than the Optiphot,
but I am more interested in episcopic microscopy.
Another pair of high point oculars are wanted for the second Optiphot,
but benefits of 22 over 20 FoV do not for me justify their higher cost.
Pair WF10X/20 Rubber Eye Guards High Eyepoint Biological Microscope Eyepiece 23.2mm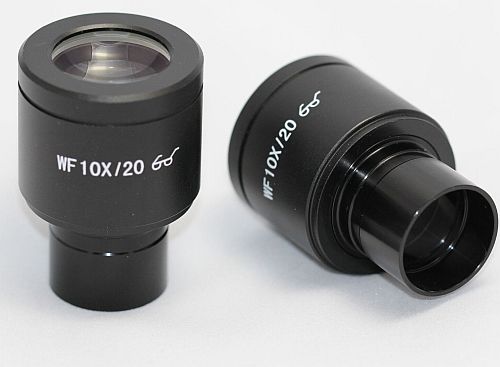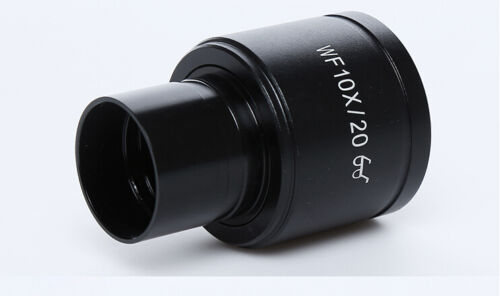 eBay item number: 223222148146
Condition: New
Brand: Cnscope
a pair of brand new widefield WF10X microscope eyepieces with High Eye-point design.
They are Achromatic (International DIN/JIS) standard size
with mounting diameter of 23.2 mm and 20 mm of field of view.
They fit most common size compound microscopes.

Product Feature:
WF10X Magnification Power
20 mm Super Wide Field of View
23.2 mm Mounting Size (in diameter)
High Eye-point Design for Easy and Comfortable Viewing
Certification:ROSH & CE
5-Year Warranty

Packing List:
One pair Super Widefield 10X Eyepiece with eyeguard in Factory Box

---
received 16 Jul, 15 days after ordering
Rubber eyeguards do not fit well, do not cover front lips.
Eyepiece views are very similar to those from Nikon CFWN 210x/20W.
Eye relief is not dramatically improved.
30mm WF 10X / 23 eyepieces
eBay item number: 144013733860
Condition: New
Brand: OLYMPUS
Package included:1 pair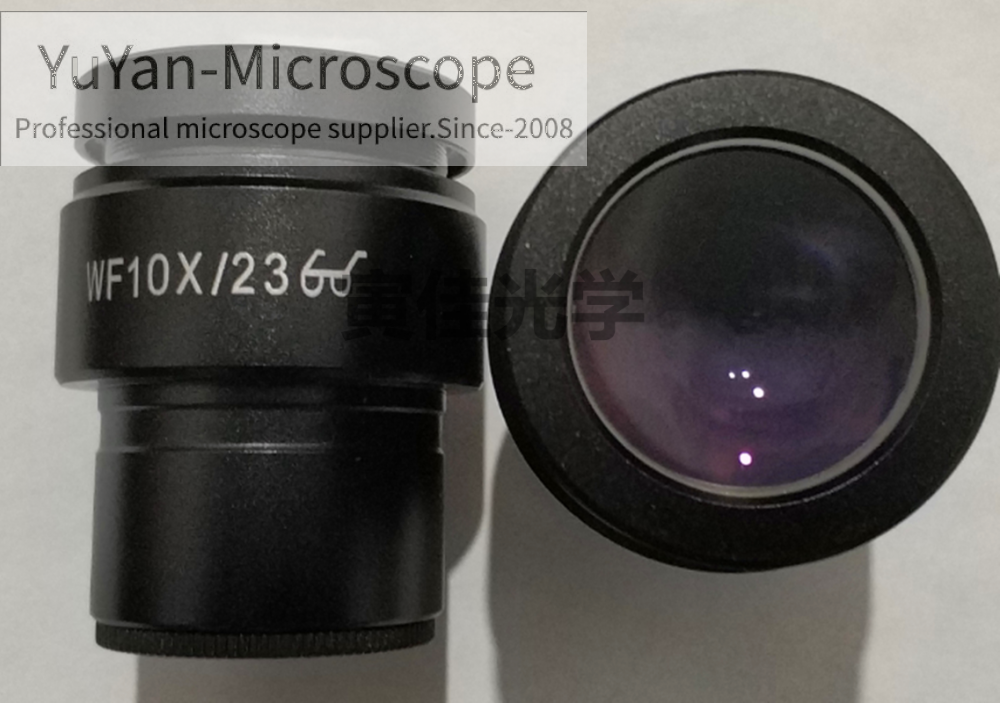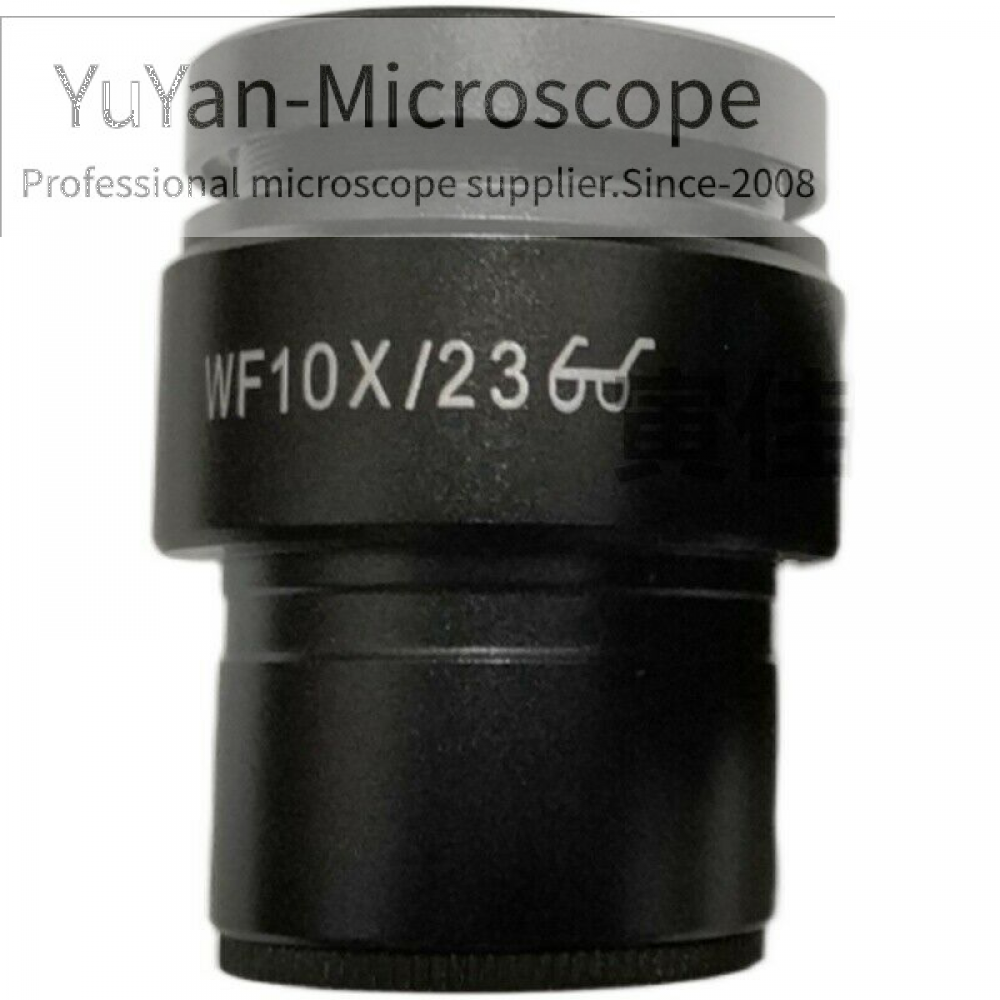 Delivery: Estimated between Fri, Aug 12 and Mon, Aug 22 to 29909

---
delivered 1 Aug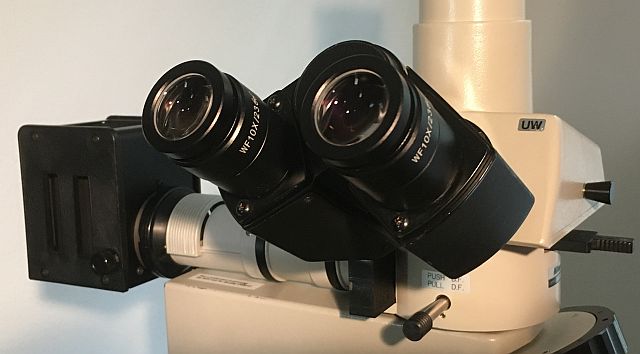 Not quite parfocal with Leica 10445111, but seemingly larger FoV than marked 21 vs 23.
As hoped, no appreciable aberrations (with Nikon M Plan 210/0 objectives), but also no eyeguards;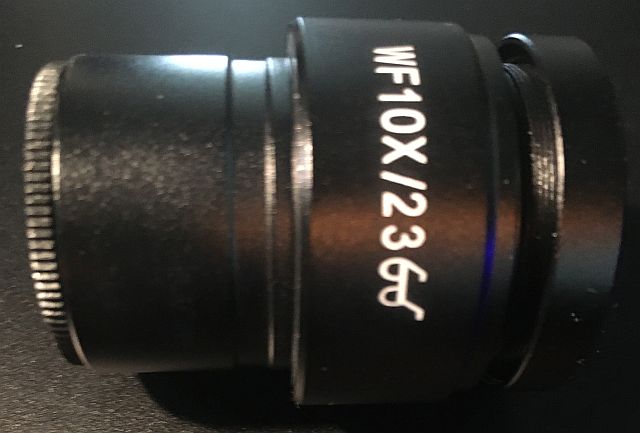 ...those purchased for Nikon CFWN 10X-20 eyepieces work better (reversed) on these.
MicrobeHunter.com: Cheap WF10X/23 eyepieces for 30mm eye tubes

For $10 more, these adjustable eyepieces with eye guards