back

Trinocular heads
Common camera optical adaptations from Ichthyophthirius:
I:   Viewing (objective - ocular - human eye)
II:  Afocal (objective - ocular - camera lens - sensor)
III: Refocussing (not recommended)
IV:  Eyepiece projection (lifting eyepiece while maintaining the intermediate image location O')
V:   Projective (objective - relay optic - camera sensor)
VI:  Direct projection (camera sensor at O')
VII: Macro lens, instead of photo relay lens, focused at O'
     also discussed under "Converting finite optics to infinity corrected"
Head banging
The quintuple RMS objective nosepiece turret used on my Optiphot
interferes with corners of trinocular heads.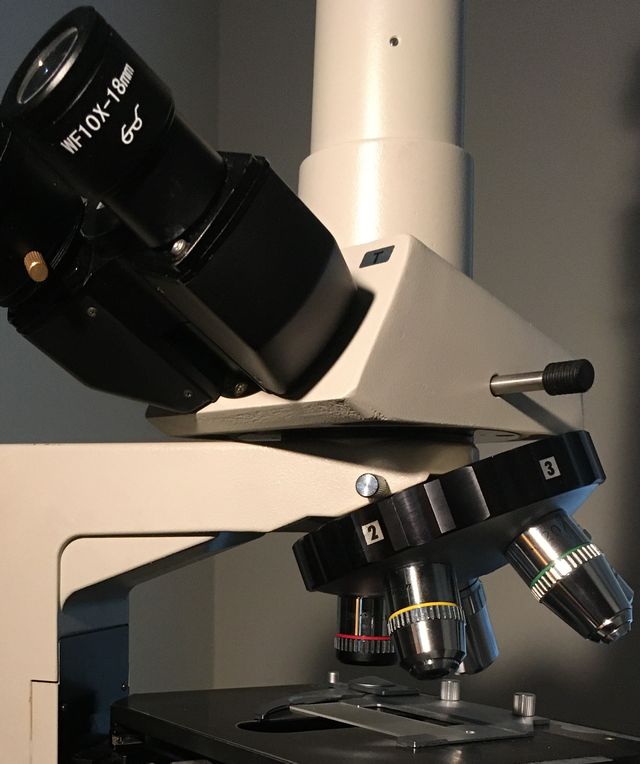 This turret was intended for infinity Optiphots, breaking finite objective parfocality

This head banging occurred with neither binocular head nor quadrupal BD objective turrets.
Practically, this is an issue with neither type T (regularly installed) or F,
since the Optiphot is arranged for viewing from the left side.
The F head, which requires rotating to switch between oculars and camera,
would be problematic if oriented for viewing from front, rear, or right side.
Other Optiphot quintuple nosepiece turrents on eBay have thinner plastic or metal outer rings;
this one may have been intended for inverted scopes and is no problem
when used with a vertical illuminator and M Plan objectives, but seems a peculiar oversight.

Nikon Type F Trinocular Microscope Head
eBay item number: 392906516398
Condition: For parts or not working
Brand: Nikon
Model: Type F

This Nikon Type F Trinocular Microscope Head is in good cosmetic condition with scuffs and scratches present.
I was able to smoothly turn the trinocular port to change the viewing from the eyepieces to the port.
The optics appear to be clear from a quick visual inspection.
I do not have the knowledge or equipment to fully test this unit, so it is sold As-Is.
Approximate unpacked dimensions: 9" x 5" x 7"

---
received 21 May 2022

Nikon CF objectives, unlike most earlier microscope objectives,
require no additional optics to correct chromatic aberrations.
With the relay lens chimney removed, a "standard" (ISO 38mm) photo tube is available:
Type F direct projection: M42 to 38mm Telescope Ring Adapter
eBay item number: 274696367794
Condition: New
Model: AD-M42-38
Microscope Adapter Type: Camera Adapter
Top Mounting Diameter: M42 (42x0.75 mm)
Bottom Outer Diameter: 38 mm or 42 mm
Height: 37 mm received 20 May 2022

Its thread is actually T2 (filter) 0.75mm thread pitch), not M42 lens mount (1.0 mm thread pitch);
plug-and-play with a thin M42 to Canon EOS-M flange: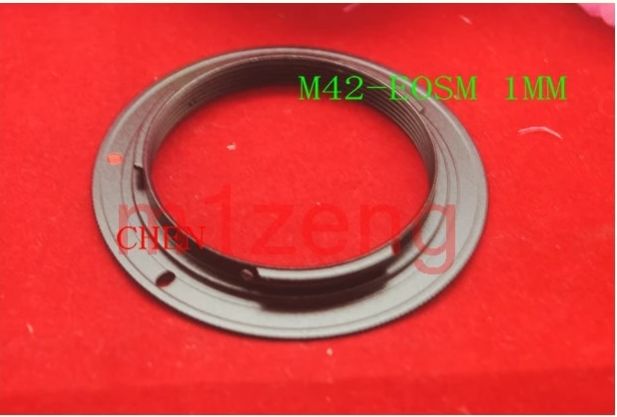 Since there are no optics in Type F head between its bottom flange and the ISO photo port,
camera sensor is a "direct" shot from objectives (ignoring vertical illuminator beam splitter and/or DIC prisms).

An AO 10-120 tube lens seemingly provides equivalent corrections for their infinity objectives;
no additional optics are necessary for digital imaging to correct chromatic aberrations.
Since designated AO photo relay optics are either rare or unavailable,
tube lens direct focus to camera sensors seems worth attempting.
Nikon Type T Trinocular Microscope Head
bundled with Optiphot-66 &nbsp



Unlike the type F, type T (and type UW) have nearly the opposite of a tube lens at their bottom flange,
creating an approximate infinity space around beam splitter prisms, but
camera sensors can be focused on that bottom flange negative lens.
Its removable photo tube chimney has nearly a tube lens at its bottom
to convert back from that beam splitter space to focus for a photo relay lens. &nbsp With chimney removed,
focusing a camera lens towards that nearly reversed tube lens yields images of a strongly cropped field.
Chimney construction does not allow for camera sensor placement at that focal plane.

The chimney has an internal aperture stop at its 50mm thread.
Lip above 50mm thread to chimney bottom (with 44mm female thread) is 49mm.
Sadly, vertical illuminator extension for Optiphot-66 is 95mm long; &nbsp it has useful diameter and threads...

Trinocular "T" photo tube lens on 42mm extension tubes and helicoid
12 Aug 2022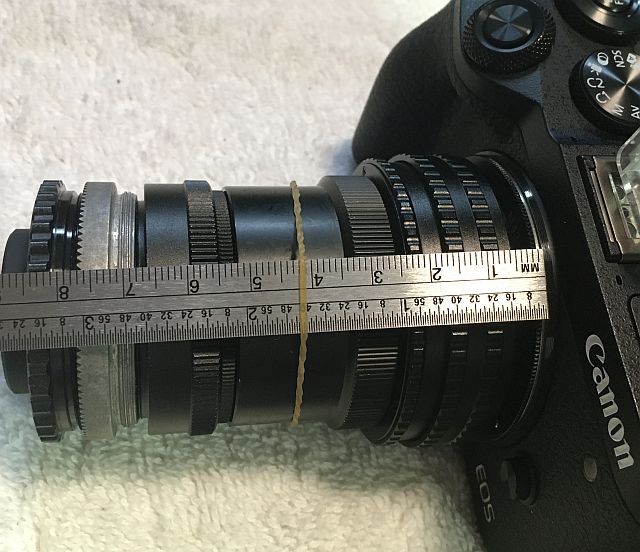 82mm from photo tube to Canon M6 II body flange
yields images parfocal to WF10X/23 oculars in UW head
with matching field of view: &nbsp

---
Type UW
Received 28 July with DIC Optiphot-66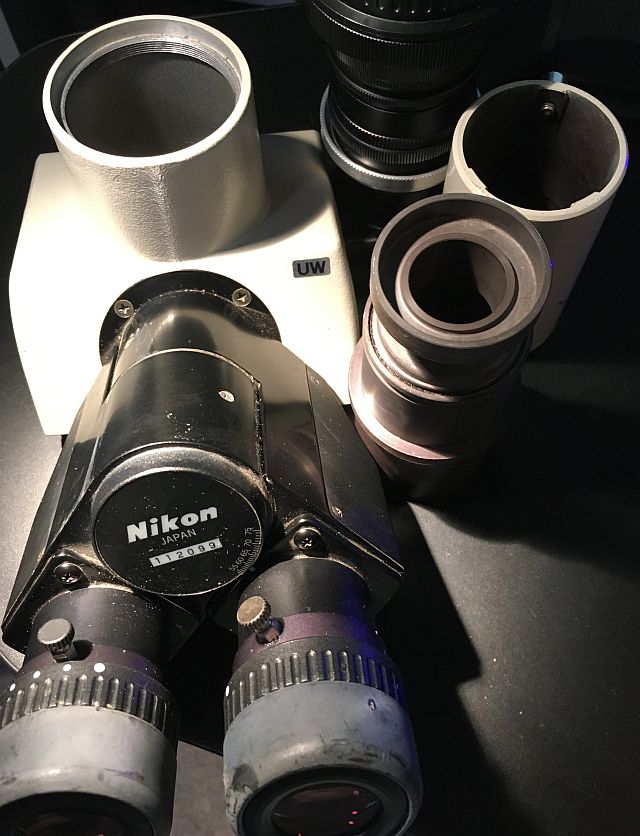 UW head eye tubes are 36mm o.d., about 3mm larger than 30mm clamp compression groove...
Leica eyepiece shield is about 42mm o.d.;
use 2" extension tube with M48 to 52mm adapter
for 40mm pancake lens.

Trinocular chimney is missing its "tube lens" for nominal infinity space around binocular prisms.


Brooke Clarke describes his UW as having a slightly larger entrance optical diameter (18mm)
compared to the stock trinocular head (16mm), which I confirmed by measurement,
but also an ISO 38mm camera port; &nbsp his type UW version has an M50x0.75 to ISO 38mm adapter:

One appears to be available at deal corner: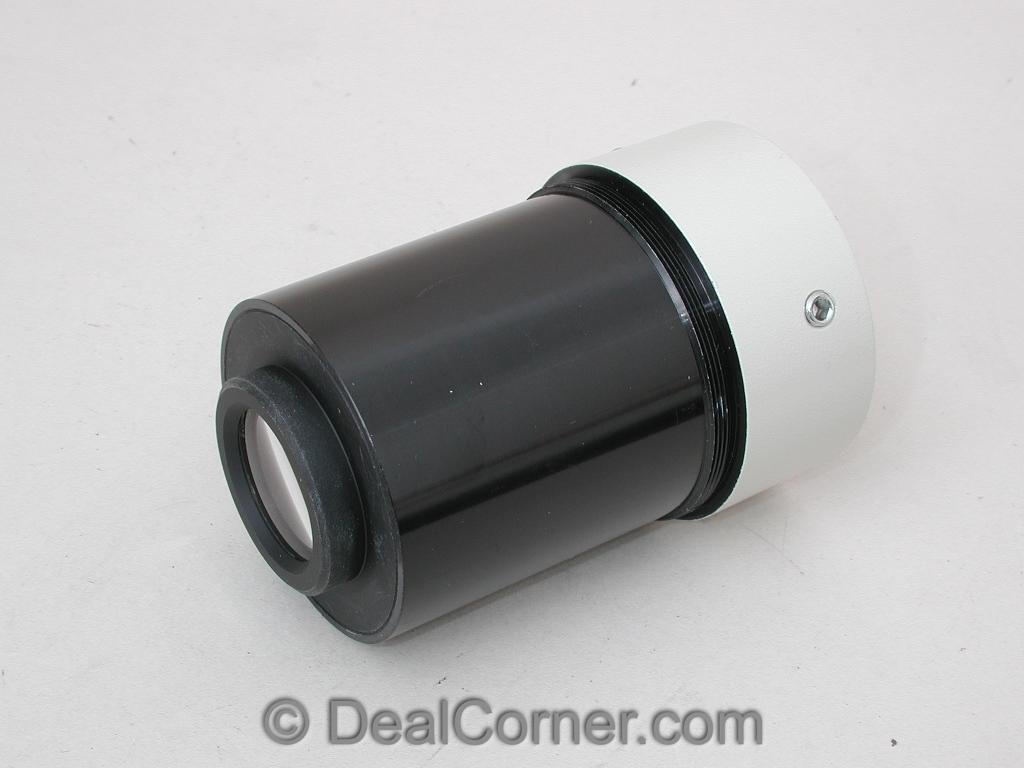 ... mine has a threaded chimney seemingly identical to that for type T.
Type T or UW direct projection
Lens at the bottom of T photo port chimney has about 82mm focal length (~ 12 diopter);
82mm is also roughly the distance from bottom lens to photo relay lens mount in the trinoc chimney.
Several methods for preempting a photo relay lens for type Y or UV trinocular heads (which dimensions match):